A United States District Court has ruled that the Legislature and governor of Michigan violated the state's constitution in 2012, when they passed and signed into law a provision saying graduate research assistants at the University of Michigan are students, not employees, and therefore don't have the right to decide on the question of collective bargaining.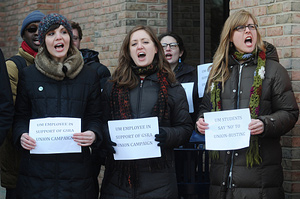 The provision appeared suddenly in March 2012, tacked onto an unrelated bill in the Republican-dominated Legislature. It came after the assistants, known as Graduate Student Research Assistants, had organized themselves to join the existing Graduate Employees' Organization, which has represented teaching assistants at the university since 1975. The UM Board of Regents had also stated its support for the GSRAs' right to decide to hold a vote.
After Republican Gov. Rick Snyder signed the bill, the GEO, graduate research assistant Christie Toth (pictured above at far right) and the UM Board of Regents sued. The court held that the manner in which the law was rushed through the Michigan Legislature as an amendment to P.A. 45, violated the "title-object" clause of the Michigan Constitution, which forbids legislation that includes numerous disparate matters.
"This is yet another example of Gov. Snyder and the Republican-controlled Legislature ignoring the rules to advance their own anti-worker political ideology," said AFT Vice President and AFT Michigan President David Hecker when the ruling was announced.
"We're gratified the judge ruled that the law targeting GSRAs' rights to organize is unconstitutional. We still firmly believe that GSRAs are workers entitled to protections under the law, including the right to have a union should they decide to organize," says Andrea Jokisaari, a GSRA in the Materials Science and Engineering Department and chair of GEO's GSRA organizing committee.
Toth, who was a GSRA from 2010 to 2013, is now working on her dissertation and hopes her colleagues will get to exercise their rights. "We call on Attorney General [Bill] Schuette to let the district court's ruling stand," she says.
[Barbara McKenna, Jim McAsey, AFT Michigan press release/photo by Melanie Maxwell/MLive.com/Landov.]