Eighteen schoolchildren left through the front door of their bus as the engine burst into flames.
Thanks to two Florida AFT members, a school bus driver and monitor, the children safely escaped a fiery bus on the way to school on May 13. Driver Augustus Simpson and monitor Dorothy Manning, both members of the Orange Education Support Professionals Association in Orlando, evacuated the bus of preschool through fifth-grade students within minutes. (They are pictured below with local president Damary Mercado, center.)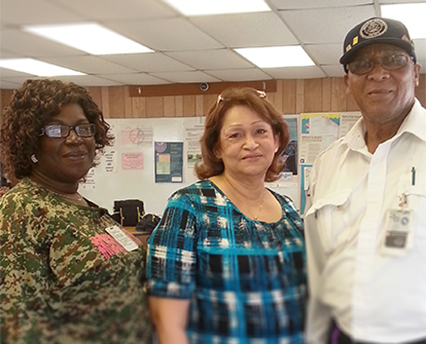 While nearing the entrance to Rosemont Elementary School in the Pine Hills neighborhood of Orange County, Simpson heard a pop and saw a red light on his dashboard. Then Manning told him she saw smoke in the back, and said, firmly, "Let's evacuate the bus now. Let's go."
Everyone left through the front door as the bus burned. Firefighters came promptly, Manning says, "but we were already long gone." Parents took video of the vehicle engulfed in flames.
Union and school officials, as well as parents, are calling the pair heroes.
"They work well together in any kind of situation," says OESPA President Damary Mercado.
Teamwork does seem to have been a factor in the swift evacuation. The driver and monitor have worked together for several years. "Yeah, we have good teamwork," Simpson agrees. Neither had ever faced an emergency before.
Simpson has driven for the district for 22 years, long enough to remember when a train hit a school bus in Orange County about a decade ago. Everyone has remained diligent about safety ever since, he says, even the children, who stay quiet approaching railroad tracks as they listen for crossing bells and train whistles.
Not only do Manning and Simpson credit frequent safety training and drills for their own self-confidence, but they in turn train their young riders, some of the preschoolers as little as 3 years old, in conducting an orderly evacuation. The children take part in regular bus drills.
"She's very good with these kids, you know?" Simpson says of Manning. "She lets them know this is not a joke. Even the babies stay quiet. She has them under control."
Manning says she's glad her kids remembered what to do, especially because about half of the children on the bus that day were preschoolers who had to be unbuckled from their "star seats."
Although their bus was gutted and can't be salvaged, Simpson and Manning got right back on the job in a different bus that afternoon. "We're like family," Simpson says. "We've got to get the kids home."
[Annette Licitra, Greg Fox/WESH.com, Justin Tzuanos/OESPA photo]