In her latest column appearing in the New York Times, AFT President Randi Weingarten praises the promising action of the Senate's Health, Education, Labor and Pensions Committee, where Democrats and Republicans came together to unanimously pass a bill to overhaul No Child Left Behind.
The committee's leaders, Weingarten writes, listened to business leaders, community partners, civil rights activists, parents and educators—including nearly 20,000 AFT members. "Overwhelmingly, the message was: Instead of obsessing over test scores, let's give our students what they need to climb the ladder of opportunity and succeed. Schools should be places of learning and joy, not testing and agita. And, let's give our teachers the latitude, supports and resources necessary to do their jobs well."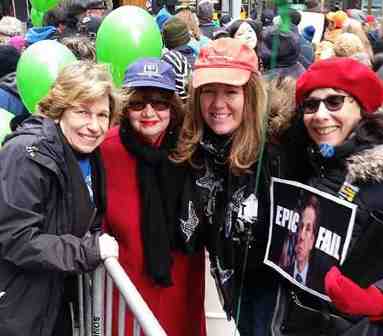 While not perfect, Weingarten adds, the bill restores the original intent of the Elementary and Secondary Education Act, as NCLB was first known, to address poverty and educational inequality with targeted funding for poor children.
Contrast that with what is happening In New York, where Gov. Andrew Cuomo is going down a different (albeit well-worn) path, ramming through ideology as part of his budget and ignoring those closest to the classroom.
"Systemic underfunding is denying generations of New York students their right to a sound basic education," Weingarten writes. "Local communities have gone through tough economic times. The courts have said that the state owes schools in high-need districts 2.3 times more in per-pupil funding than schools in wealthy districts. Yet Gov. Cuomo fails to close this gap, which is among the worst in the nation. At the same time, New York schools are the most segregated in the nation, another issue that the governor ignores."
Drawing on her 30 years of working in public education, Weingarten points out that she's seen leaders from the classroom to the national stage who have been willing to set aside their differences and do the hard work that's necessary to create real, enduring change.
"It might be surprising that this kind of leadership is wilting in a state like New York, while blooming in the most unlikely of places: Congress," she writes. "The U.S. Senate bill represents an important step forward and the most positive development we've seen in public education policy in years—because of both the bill's content and the committee's very intentional move to leave partisanship and politics at the door."